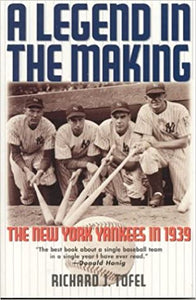 A Legend in the Making The New York Yankees in 1939 Baseball Paperback by Richard J. Tofel 2002
$1695

$16.95

Save $8
Tax included.
Shipping
calculated at checkout.
---
---
"The best book about a single baseball team in a single year I have ever read."―Donald Honig. Here is the story of perhaps the greatest team in baseball history and of one of the game's most remarkable seasons. With Babe Ruth having retired but Lou Gehrig still in his prime, the Yankees in 1939 won their fourth consecutive World Series―and forever established the Yankee legend. The dramatic story of the 1939 season is one of turning points: Gehrig takes himself out of the lineup and is soon found to be terribly ill; Joe DiMaggio, the rising star and replacement for Ruth, has perhaps his greatest year; baseball opens its Hall of Fame in Cooperstown, New York; the first major league baseball game is televised, and Yankee games are broadcast over the radio for the first time; night baseball comes to the American League. Richard Tofel has written an original work of history, based on considerable research. His compelling narrative includes a good many usually overlooked findings―for example, that players in 1939 were actually very well paid; that Manager Joe McCarthy pressed Gehrig to end his consecutive game streak as his health deteriorated; that baseball segregation in 1939 was not so much a Jim Crow system but simply out of mind in an atmosphere of casual bigotry; that McCarthy was perhaps the greatest manager in baseball history, and why. But the strength of Mr. Tofel's book lies in his serious treatment of the sport in its social and historical context. Baseball fans will find 
A Legend in the Making
 one of the finest baseball books of our time. With 12 black-and-white photographs. New condition from a smoke free retail store.