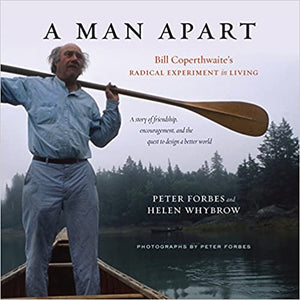 A Man Apart hardcover w/jacket NEW by Peter Forbes & Helen Whybrow 2015
$1995

$19.95

Save $15.05
Tax included.
Shipping
calculated at checkout.
---
---
A story of friendship, encouragement, and the quest to design a better world
A Man Apart is the story―part family memoir and part biography―of Peter Forbes and Helen Whybrow's longtime friendship with Bill Coperthwaite (A Handmade Life), whose unusual life and fierce ideals helped them examine and understand their own.
Coperthwaite inspired many by living close to nature and in opposition to contemporary society, and was often compared to Henry David Thoreau. Much like Helen and Scott Nearing, who were his friends and mentors, Coperthwaite led a 55-year-long "experiment in living" on a remote stretch of Maine coast. There he created a homestead of wooden, multistoried yurts, a form of architecture for which he was known around the world.
Coperthwaite also embodied a philosophy that he called "democratic living," which was about empowering all people to have agency over their lives in order to create a better community. The central question of Coperthwaite's life was, "How can I live according to what I believe?"
In this intimate and honest account―framed by Coperthwaite's sudden death and brought alive through the month-long adventure of building with him what would turn out to be his last yurt―Forbes and Whybrow explore the timeless lessons of Coperthwaite's experiment in intentional living and self-reliance. They also reveal an important story about the power and complexities of mentorship: the opening of one's life to someone else to learn together, and carrying on in that person's physical absence.
While mourning Coperthwaite's death and coming to understand the real meaning of his life and how it endures through their own, Forbes and Whybrow craft a story that reveals why it's important to seek direct experience, to be drawn to beauty and simplicity, to create rather than critique, and to encourage others.