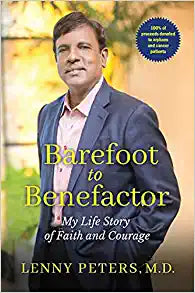 Barefoot to Benefactor: My Life Story of Faith and Courage Hardcover Autographed 2021
$2800

$28.00

Save $11.95
Tax included.
Shipping
calculated at checkout.
---
---
n Asian American immigrant's journey from poverty in India to the heights of the medical profession in America—and the faith that made his accomplishments possible.


When Lenny Peters was a boy playing marbles among the lush mangrove trees in impoverished India, he had one overriding wish: to be the best at everything he did. Born into a Christian family and part of a minority population in that part of the world, Lenny was innately aware of the hurdles he faced. Wise beyond his years, Lenny embraced a simple philosophy: hard work and prayer. He could never have imagined how far his faith and his drive for excellence would take him, nor how much good he would do along the way.

In 
Barefoot to Benefactor
, Lenny tells the uplifting story of how the youngest son from Kerala, India, worked his way into medical school, propelled himself to London, and settled in North Carolina as an accomplished physician. Not satisfied with providing standard medical care, Lenny became a world-class researcher and founded the Bethany Medical Centers, a revolutionary network that treats anyone who walks through its doors with the best that medicine can offer.

Wonders followed Lenny as faith determined his path. He turned a community college course in personal finance into a vast real estate empire and thriving medical practice. His fascination with business led him not only to establish much-needed health and research facilities, but to establish a bank for underserved communities that now operates in four states. Through it all, he battled the prejudice he encountered as a professional man of color with a "funny accent," turning every hardship into opportunity and learning that forgiveness and acceptance bestow grace.

Most importantly, Lenny has never forgotten his roots. The Lenny Peters Foundation shares his abundance with the less fortunate, both here and in India. His story of trailblazing in medicine, finance, and philanthropy is proof that miracles come to those who have faith—in God and in themselves.