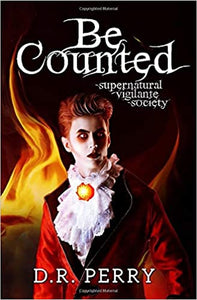 Be Counted Supernatural Vigilante Society paperback by D.R.Perry
$1095

$10.95

Save $4
Tax included.
Shipping
calculated at checkout.
---
---
Life sucks and then you die. Sort of. 
Valentino Crispo loves Mom's Italian cooking, sun on the beach, and working for the Cranston Police Department. He loses it all after getting vamped. Now, he's the newest vampire in Providence. 
When a hitwoman apparently shoots his dad and one of Cranston's Finest on the same night, Tino stops letting vampirism bite him. He'll mix supernatural and PD skills to solve the crime. But he hasn't got the hang of being a vampire yet.
The mystery of whodunit and why is tied up with Tino's own turning. The Providence vampire elders hate nosy vamps almost as much as new ones. Will Valentino stand up and be counted or add to the body count?