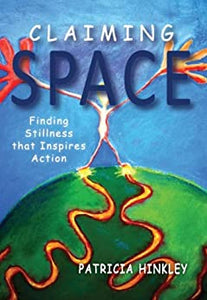 Claiming Space Paperback by Patricia Hinkley 2014
$1595

$15.95

Save $4
Tax included.
Shipping
calculated at checkout.
---
---
You have a right to claim space, be happy, and feel truly alive!
Our lives are incredibly busy, but we really want meaning and purpose rather than hurry, hurry.
The fast pace of life and information overload of the day-to-day can often leave you reeling: feeling out of control of your own life, full of stress, and low on happiness.
You have a choice. You can chose to interrupt the pace, decrease your stress, and discover happiness within yourself.
In her acclaimed book, Claiming Space, author Patricia Hinkley gives simple and immediate ideas for claiming your own space, such as:
* When standing in the grocery line, put a little smile on your face and breathe deeply into your belly. Let the feeling spread.
* When your phone rings, back away from it and do not answer. How does that choice feel?
* Take yourself out of gravity a bit. Lie down for a few minutes each day. Enjoy the purposeful rest.
You are in charge. Claiming Space is a workshop in a book, designed to help you find happiness in your life, and most importantly, to realize that happiness is an inside job.
The thoughts in Claiming Space are similar to those in books you may have read by Joan Borysenko or Barbara Marx Hubbard.