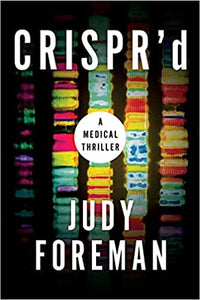 CRISPR'D a medical thriller hardcover w/ jacket New 2022 by Judy Foreman
$2195

$21.95

Save $5
Tax included.
Shipping
calculated at checkout.
---
---
For fans of Julia Buckley and Tess Gerritsen, a debut featuring a killer in plain sight using a microscopic murder weapon, the cutting edge gene-editing technology: CRISPR.
Boston geneticist Dr. Saul Kramer is on the cutting edge of genetic disease research. Revered among clients at his IVF clinic, he harbors a dark secret. In addition to helping infertile couples conceive healthy babies, Dr. Kramer is obsessed, for his own dark reasons, with an alternate mission as well. In certain patients, he uses the gene editing technology CRISPR to tamper with embryos, not to improve the health of the embryos, but to replace a healthy gene with a deadly mutation. A young female journalist, Sammie Fuller, begins to suspect what he has done when three infants conceived at his clinic die mysteriously, all at about one year old.  She and a molecular biologist work secretly in his MIT lab to identify any genetic defects in the deceased children and together make a chilling discovery. Thanks to Sammie's blockbuster stories, which go viral, Dr. Kramer is charged with murder and winds up in court. In the subsequent dramatic court scenes, his feisty defense lawyer stuns the world with her defense. Set in this uneasy time of genetic engineering with CRISPR technology, Foreman, spins a compelling tale of love, revenge, and murder.