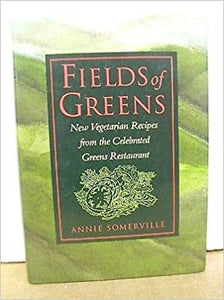 Fields of Greens Bantam hardcover NEW by Annie Somerville 1993
$2995

$29.95

Save $10
Tax included.
Shipping
calculated at checkout.
---
---
The opening of Greens Restaurant on San Francisco Bay in 1979 changed forever the image of vegetarian cooking in America.  From the restaurant's imaginative mix of casual elegance, exciting tastes, and a subtle message of health and harmony, a distinctive cuisine was born that has continued to bring joy to many thousands of diners every year as well as to the hundreds of thousands of readers who delight in 
The Greens Cookbook.
 In its latest incarnation, the restaurant has evolved toward a lighter, leaner, simpler cuisine, one that keeps all the spirit and refinement of the original menu but depends more on the excitement of sparkling fresh produce and its integral relationship to the dishes it inspires.
In close to 300 original recipes, the new Greens style includes exuberant salads, soups, the legendary crusty Greens pizzas, curries and hearty stews, grilled vegetables, and intriguing turnovers made with filo pastry, tortillas, and savory doughs.  And of course there are heavenly breads and the famous desserts, like ginger pound cake with poached apricots and cherries.  This cornucopia of brilliant dishes focuses on tantalizing tastes, with a new simplicity, clarity, and liveliness as its hallmark.
Annie Somerville, the executive chef at Greens, goes right to the heart of the matter: extraordinary produce that's bursting with flavor, color, and texture.  Some of her favorites--like crinkly Bloomsdale spinach, candy-striped Chioggia beets, succulent Rosefir potatoes--are highlighted in the text for gardeners and farmers' market aficionados.  But the Greens style is above all accessible; ordinary red beets will be just fine if more exotic varieties are unavailable.  To help with availability, there's information on locating farmers' markets throughout the country as well as sources for plants, seeds, and local resources.
Because the garden is at the center of this book, readers are encouraged to try their hand, in tiny backyards and windowsill boxes if necessary.  Invaluable growing tips are offered from Green Gulch Farm, the source of much of the stunning produce served at the restaurant.  Other special features include a section on low-fat cooking and another on pairing wine with vegetarian food.
All of the abundance and exuberance that the title 
Fields of Greens
 implies is here, for the novice as well as the expert, for simple last-minute meals as well as extravagant occasions.  For truly inspired contemporary vegetarian cooking, 
Fields of Greens
 is the essential sourcebook.
Annie Somerville trained under Deborah Madison, the founding chef at Greens Restaurant.  Under Somerville's guidance as executive chef, Greens has become a culinary landmark.  Her work has been featured in 
Gourmet, Food & Wine, Ladies' Home Journal, SF,
 and 
California
 magazine.  She also contributed to 
The Open Hand Cookbook
 and 
Women Chefs
 cookbook.