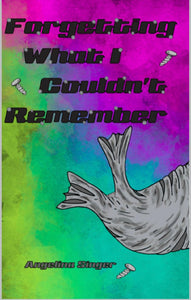 Forgetting What I Couldn't Remember Sci-Fi paperback by Angelina Singer 2019
$1500

$15.00

Save $4.95
Tax included.
Shipping
calculated at checkout.
---
---
"Maybe getting older lets you finally see all sides of the dice - not just the ones that are facing up."
Vera Bartlet is a soon-to-be college graduate with absolutely no idea how messy her life is about to become. It's not just the job search looming on the horizon or her lack of a boyfriend that's got her stomach in knots - rather, her dad has been missing for almost a decade, and no one knows what happened to him.
When Uncle Edgar mysteriously arrives back onto the scene, he comes armed with some interesting new ideas about what may have happened to Vera's dad - and an even more revolutionary idea of how to find him. With nothing short of bending time and space, Edgar sends Vera back in time in the hopes that she might find the clues they need to get her dad home.
As she sifts through the mangled pieces of reality and her altered memories of middle school drama become jumbled in between truth and fantasy, Vera has to choose which elements of her past should stay in the past, and which she might like to incorporate into her future. Time travel is never simple, and there are always side effects - but in this case, it might just hold the key to finding her dad. Will Vera stay sane long enough to find her dad and make peace with the bullies who made her miserable?