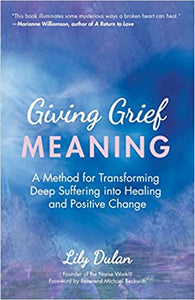 Giving Grief Meaning by Lily Dulan 2020
$1495

$14.95

Save $4
Tax included.
Shipping
calculated at checkout.
---
---
Help through the mourning process using self-healing methods. How do you make sense of loss and tragedy? After the sudden and devastating loss of her infant daughter, Lily Dulan (a marriage and family therapist, psychotherapist and certified yoga teacher) meditated, prayed, and ruminated on the only thing she had left–her baby girl's name. In Lily's courage to address and move through her pain, she developed a cross pollination of proven psychological modalities, 12-step wellness tools, spiritual healing applications, meditations, and ancient yoga self-help processes she called "The Name Work". In her heartfelt memoir, Lily shares her healing journey and her method for unleashing the power in names and giving them special meaning to help move through the grief process in a thoughtful and transformative way.

What's in a name? Meanings! The Name Work method teaches you how to assign special meaning and qualities to the letters in names–a deceased loved one's or your own–and how to create positive affirmations for each letter's attribute. It is a tangible and personal self-healing method for whatever obstacles arise; a unique, new wellness tool for healing and self-discovery.