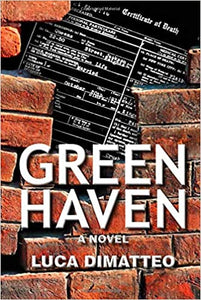 Green Haven a novel, hardcover by Luca Dimatteo Autographed 2020
$2495

$24.95

Save $5
Tax included.
Shipping
calculated at checkout.
---
---
Luxury comes at a deadly price.
Nurse Cathy Arden must prove her innocence or spend the rest of her life in a prison cell.
Oscar Green's vision is simple: create a place where wealthy senior citizens can live their final days in the comfort to which they have become accustomed. On the outside, the ultra-luxury of Green Haven seems like heaven on Earth, but Green Haven is not the idyllic nursing home it appears to be.
Director of Nursing, Cathy Arden's complacent life is about to change as she discovers Green Haven's residents are suddenly dying at an alarming rate. She is determined to prove something is wrong, and her efforts have inadvertently placed her in the crosshairs. Who can she trust as the killer may be working right beside her?
Detective Oaks sets his sights on Cathy when all the evidence points to her. He is intent on bringing her to justice. Desperate, but unwilling to give up, Cathy is forced to put others at risk to find out who the real killer is and point detective Oaks in the right direction. If she fails, more will die and Cathy's new long-term home will be a prison cell.
Green Haven is the perfect place for the rich and forgotten. Perhaps it's also the perfect place for murder.