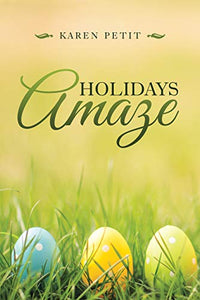 Holidays Amaze Paperback Autographed by Dr. Karen Petit 2018
$1195

$11.95

Save $3
Tax included.
Shipping
calculated at checkout.
---
---
The left shoe angrily kicked the right shoe's heel;
it wanted to step into its space ideal
instead of being forced to move sideways
and switch its preplanned straight path into a maze.
In the narrative poem "The Joys of Learning on Graduation Day," two shoes have stage rage. Like these shoes, we may occasionally want only a single straight path. Most times, though, the mazes of our lives completely amaze us. Especially on a holiday or a celebration, we love having the freedom to choose our way amid diverse pathways.
Holidays Amaze has different kinds of poetry: maze poems, prayer poems, shaped poems, sonnets, and narratives. The varied poems are enhanced by Christian content, historic elements, dream/reality sections, and amazing interactions among family members, friends, and animals. In Holidays Amaze, success often happens, such as with resolutions on New Year's Day, an unblocked writer's block, a reduction of anxiety, and a decrease in impatience while waiting in line.
Multimodal elements add to the amazing content of Holidays Amaze. Images are visible in the mazes, photos, metaphors, formats, shapes, and icons. Aural components can be heard in the rhythms, rhymes, alliteration, and other sound elements.