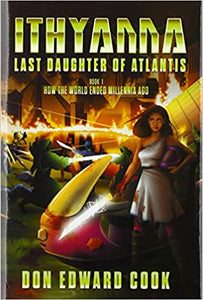 Ithyanna, Last Daughter of Atlantis Book 1 hardcover new by Don Edward Cook 2020
$2495

$24.95

Save $15
Tax included.
Shipping
calculated at checkout.
---
---
IN THE DAYS OF NOAH, IN AN ANCIENT WORLD OF ANXIETY ...
Noah warned the world about the coming flood yet, outside of his family, no one listened. Ancient prophecies, signs, and omens pointed to coming worldwide disaster-yet no one listened. Signs in the environment and society provided humanity with another set of warnings-yet no one listened!
No one listened ... except for an Atlantean telepathic wunderkind-scientist, Ithyanna. Ithy, as her friends called her, saw the impending destruction and, through her extensive doctoral research, urged the building of at least one spaceark to carry a nucleus of humans to safety. But only a handful of people signed on, one of them a wealthy financier-cultural demagogue, and thus work began on Project Life-Escape and its starship of life. Battling ever-growing economic woes, scoffing masses, the duplicity of her benefactor, a growing threat of all-out war with totalitarian Lemuria, and resistance from the Divine, Ithyanna and her project workers toil bravely to save humanity. But will Ithyanna's valiant efforts to get humans to another world succeed ... or fail?