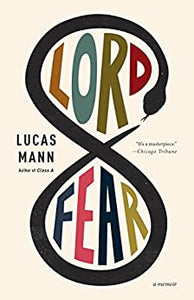 Lord Fear a memoir by Lucas Mann 2015
$1295

$12.95

Save $12
Tax included.
Shipping
calculated at checkout.
---
---
Lucas Mann was only thirteen years old when his brother Josh—charismatic and ambitious, funny and sadistic, violent and vulnerable—died of a heroin overdose. Although his brief life is ultimately unknowable, Josh is both a presence and an absence in the author's life that will not remain unclaimed. As Josh's story is told in kaleidoscopic shards of memories assembled from interviews with his friends and family, as well as from the raw material of his journals, a revealing, startling portrait unfolds. At the same time, Mann pulls back to examine his own complicated feelings and motives for recovering memories of his brother's life, searching for a balance between the tension of inevitability and the what ifs that beg to be asked. Through his investigation, Mann also comes to redefine his own place in a family whose narrative is bisected by the tragic loss.
Unstinting in its honesty, captivating in its form, and profound in its conclusions,

 
Lord Fear
 

more than confirms the promise of Mann's earlier book,

 
Class A;
 

with it, he is poised to enter the ranks of the best young writers of his generation.