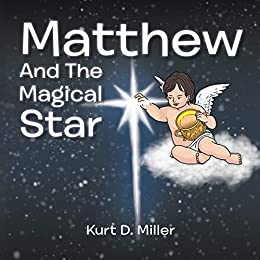 Matthew and the Magical Star Autographed by by Kurt D. Miller 2016
$1500

$15.00

Save $1.95
Tax included.
Shipping
calculated at checkout.
---
---
The story is about a little angel Matthew waiting for his turn to be born. He has waited a long, long time to be born, and when his turn finally comes, he is heartbroken when he is removed from the list to make way for the birth of Gods Son, Jesus. Heartbroken and angry, he leaves heaven and flies off into infinity to be on his own. Matthew is shocked to find out that a fallen angel also has his own place within infinity. The fallen angel tries to tempt Matthew to leave heaven and be with him, but when Matthews best friend, Adam, finds out that he is missing, he enlists the help of the archangel and the multitudes of heaven to rescue him.
When the archangel, Adam, and St. Peter arrive at the fallen angels palace, a terrible battle ensues until God intercedes. Having angered God for the last time, the fallen angel and his minions are sent into the caverns of the underworld.
God then tells Matthew that he has kept him in heaven to help announce the coming of his son to the world. God gives Matthew a golden vase containing a magical star that will help guide the shepherds and wise men to the birthplace of Jesus. Matthew flies to the middle of infinity and releases the beautiful star, and it fills the night sky, pointing the way to Bethlehem.