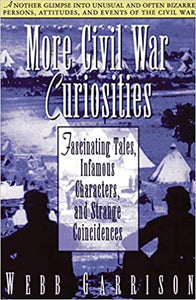 More Civil War Curiosities Paperback by Webb Garrison 1995
$1000

$10.00

Save $9.95
Tax included.
Shipping
calculated at checkout.
---
---
More Civil War Curiosities contains strange but true stories from the four-year conflict that raged across a one-thousand-mile battle front with more than three million men in uniform. Anything could and often did happen. Webb Garrison recounts instances of friendly fire casualties, the unperfected art of spying, banishments and deportings, grisly tales of missing limbs, name changes for both people and ships, disguises that worked (and some that did not), and many "firsts" and "lasts."
Fragging, or purposely killing a fellow soldier, was the probable cause of the death of Thomas Wilson, a tyrannical Federal general. He died in action at the battle of Baton Rouge when, according to one account, he was seized by a group of his own men who held him in front of a cannon before it was fired at the enemy.
When Confederate Gen. Jubal Early marched on Frederick, Maryland, he offered not to torch the town for a payment of $200,000. It took the townspeople a day to borrow the money?and 87 years to pay it back. When Chambersburg, Pennsylvania, failed to raise a ransom of $500,000, Early's subordinate, Gen. John McCausland, burned the town to the ground.
The arm of Confederate Gen. Stonewall Jackson was amputated when he was wounded at the battle of Chancellorsville. Following the operation, Jackson's corps chaplain gave the arm a respectful burial?complete with a gravestone?in his family's cemetery. When the general died a week later, the rest of him was buried in Lexington, Virginia.
Hiram Ulysses Grant was mistakenly listed as Ulysses Simpson Grant by the congressman appointing him to West Point. Grant did not protest, and the name stayed with him all the way to the presidency of the United States.