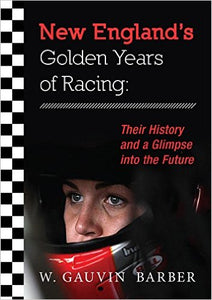 New England's Golden Years of Racing: Their History and a Glimpse into the Future 2014
$2495

$24.95

Save $5
Tax included.
Shipping
calculated at checkout.
---
---
Can you imagine driving a 800 horsepower, 900 pound winged World of Outlaws Sprint car, most of the time up on three wheels, kicking up dirt on every turn? In
New England's Golden Years of Racing,
Barber brings the history of short track racing to life even as he highlights the exciting future of this adrenaline-fueled sport.
New England's Golden Years of Racing offers a detailed focus on Thompson Speedway, which has attracted many of racing's biggest names in the northeast to race on the 5/8 mile track including two of the greatest all-time NASCAR drivers, Richard Petty and David Pearson.
But the story doesn't stop there.
Barber also provides in-depth analysis of female race car drivers, past and present. Read about pioneer Louise Smith who couldn' t make it as a nurse, a beautician or a pilot but finally found her calling as a race car driver from 1949 through 1956. Become a fan of Shelly Perry, a modern race car driver who became Thompson Speedway s first female winner and the first female Weekly Track Champion.
Barber shares these stories with the hope of inspiring just one more lady to join the ranks of short track racing at any level and to provide recognition to the fearless drivers and sponsors that make it all possible for future generations to enjoy and be a part of short track racing history. Listen for the cheering from the stands, the soundtrack of dirt track New England stock car racing in its finest surroundings.