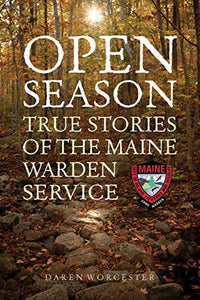 Open Season True Stories of the Maine Warden Service by Darren Worcester 2017
$1995

$19.95

Save $5
Tax included.
Shipping
calculated at checkout.
---
---
Before reality TV, GPS devices, and dashboard computers, there was a coming of age for the Maine Warden Service. It was a time when a compass, map, and one's wits were what mattered most in the field. Every day offered the potential for an exciting new adventure, many of which endangered the wardens' lives.
Recreating the full warden experience, Open Season includes 20 stories from two former colonels, two lieutenants, two sergeants, four district wardens, a warden pilot, and one currently active-duty corporal. Altogether, their cumulative experiences account for more than 300 years of north woods law.
In addition to hair-raising, life-and-death scenarios, the collection covers moments such as a child innocently outing his parents as "looking for deer" at night, the doldrums of a stakeout, and the grief of tragedy. You'll live through the eyes of these twelve wardens and feel the excitement of a twig snapped in the dark...the frustration of second guessing yourself when lives are at stake...and the duty to do what's right, even when it means breaking the law.