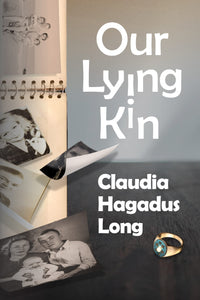 Our Lying Kin soft cover, new, by Claudia Hagadus Long 2023
$1595

$15.95

Save $9
Tax included.
Shipping
calculated at checkout.
---
---
"Hello? I knew your father…better than you did."

Zara and Lilly are back, but their relationship has some cracks in it. Through the long pandemic isolation, Zara's gone from straight-laced to rigid, while Lilly, true to form, has indulged in some dubious — and not-particularly-legal — adventures. But they're still sisters, and sisters are special.

While Zara is visiting New York to help Lilly testify against the thief and murderer Walter Rosen, a surprise phone call rocks their view of their family: a woman claims a shocking relationship to their deceased father, and now to them. Zara and Lilly turn their considerable sleuthing talents toward unraveling a series of family mysteries...but their quest begins in earnest when they learn that Rosen, who nearly killed Lilly the last time they met, has escaped from custody.

Can Zara and Lilly discover the truth about their new-found — possibly ersatz — relative, while keeping themselves and their loved ones safe from a Nazi's vengeance?

Laced with verbal photographs of a family's secrets, and filled with humor, sibling rivalry, and love, Our Lying Kin tells a human, haunting and rollicking story of the ravages of the pandemic and the power of family.
Advanced Review Copy and listen to the Podcast interview with the author on anchor.fm/wayne-barber