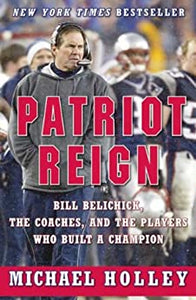 Patriot Reign, Bill Belichick hardcover w/ jacket, new, by Michael Holly 2004
$995

$9.95

Save $15
Tax included.
Shipping
calculated at checkout.
---
---
When Bill Belichick arrived in New England, the Patriots were a laughingstock, an organization with a losing record and a roster of overpaid, underperforming players. So how did a head coach with a questionable record transform this team, garner three Lombardi trophies in four years, and -- with the Pats' 2005 Super Bowl win over the Philadelphia Eagles -- cement the team's place as an NFL dynasty?
With unprecedented access granted by Belichick and his staff, author Michael Holley spent two years with the coach, his team, and his brain trust. Holley provides insights into how Belichick and his coaching cabinet prepare for opponents, evaluate talent, run the draft, and design their offensive and defensive schemes. Patriot Reign captures Belichick at his most candid, and what emerges is a portrait of a complicated man who is cerebral, yes, but also tough, demanding, stubborn, funny, profane, and a master strategist.
Frank, uncompromising, and stunning, Patriot Reign is required reading for football fans who want to understand what makes a champion tick