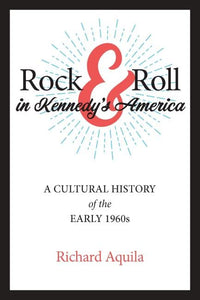 Rock & Roll in Kennedy's America new, hard copy by Richard Aquila 2022
$2495

$24.95

Save $5
Tax included.
Shipping
calculated at checkout.
---
---
A rousing, poignant look at the cultural history of rock & roll during the early 1960s.
In the early 1960s, the nation was on track to fulfill its destiny in what was being called "the American Century." Baby boomers and rock & roll shared the country's optimism and energy. For "one brief, shining moment" in the early 1960s, both President John F. Kennedy and young people across the country were riding high. The dream of a New Frontier would soon give way, however, to a new reality involving assassinations, the Vietnam War, Cold War crises, the civil rights movement, a new feminist movement, and various culture wars.
From the former host of NPR's Rock & Roll America, Richard Aquila's Rock & Roll in Kennedy's America offers an in-depth look at early 1960s rock & roll, as well as an unconventional history of Kennedy's America through the lens of popular music. Based on extensive research and exclusive interviews with Dion, Bo Diddley, Brenda Lee, Martha Reeves, Pete Seeger, Bob Gaudio, Dick Clark, and other legendary figures, the book rejects the myth that Buddy Holly's death in 1959 was "the day the music died." It proves that rock & roll during the early 1960s was vibrant and in tune with the history and events of this colorful era. These interviews and Aquila's research reveal unique insights and new details about politics, gender, race, ethnicity, youth culture, and everyday life. Rock & Roll in Kennedy's America recalls an important chapter in rock & roll and American history.
Can listen to the author's interview on our podcast at anchor.fm/wayne-barber