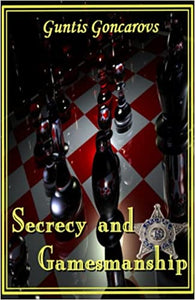 Secrecy and Gamesmanship paperback NEW 2022 by Guntis Goncarovs
$1700

$17.00

Save $7.95
Tax included.
Shipping
calculated at checkout.
---
---
1901. It was the beginning of a grand new century. William McKinley was re-elected president. Roosevelt was now the vice-president and wanted a secret spy agency for the executive branch. The Pan-Am Exposition heralded electricity as a new power to light the world, The American economy was booming, engineering innovations eclipsed previously believed limits, and submarines captured the Navy's attention. But a failed assassination on Kaiser Wilhelm started a cascade of events that threatened to spiral the world's fragile balance of power out of control.
Secrecy and Gamesmanship is set in 1901, primarily in the United States. William McKinley had been re-elected president with Theodore Roosevelt as his vice-president. Prior to the Spanish-American War in 1898, as the Assistant Secretary of the Navy, Roosevelt brought in John Wilkie to rebuild the Secret Service and split off a special group of agents who would eventually become a spy agency for the Executive Branch.
Sam Carter, a Citadel graduate and illegitimate son of a German Federation spy who had died on the civil war submarine, 
CSS Hunley
, had been working for the Secret Service as one of those special agents since before the Spanish American War. He had grown weary of chasing John Wilkie's empty promises of permanent appointment to the special group, leaving him wanting something else. Coaxed by his marine engineering studies at the Citadel, Carter investigates the latest of the U.S. Navy's advanced engineering acquisitions, the 
Holland
 submarine.
James Benjamin Parker, a Buffalo Soldier from the Cuban War where he had befriended Colonel Theodore Roosevelt at San Juan Hill, was on his way to the Pan-American Exposition where he has been promised some good paying work. When he stopped off in Baltimore, he stumbled across a stranger lurking around the Holland submarine trials, and knew he had to report what he saw to the authorities. When he continued his northerly trek, he befriends Sam Carter, now assigned to track this lurker as a potential threat to the president, discovering the lurker was actually a German spy.
Unbeknownst to all, for an increasingly delusional, laid off wire-factory worker Leon Czolgosz, anarchism served as an elixir that promised freedom from his personal yoke of being known as Nieman—no man—if he could resolve what it was that he needed to do. After wandering for a several months under everyone's radar, he had a premonition that his destiny would be realized in Buffalo.