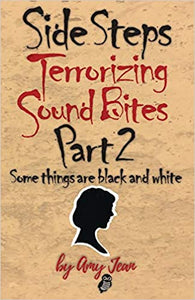 Side Steps Terrorizing Sound Bites Part 2 Amy Jean 2017
$1895

$18.95

Save $1.25
Tax included.
Shipping
calculated at checkout.
---
---
In Side Steps Terrorizing Sound Bites Part 2: Some Things are Black and White, Amy Jean continues to share the ramifications of repetitive historical missteps in an intense poetic clang. The poems hint at unknown universal truths, including direct indications that we currently do not have the freedom we assume we possess, nor are we privy to view reality. The implied impending euphoria holds the reader hostage, as she or he flips from page to page. You can feel the author's anguish surrounding the greed and jealousy holding humanity back from breaking through to universal liberation: A rapidly approaching future where the oneness depicted in Holy Scripture is a present and universal truth for all.
Sincere tantalizing morsels of a gentle and enduring devotion seep sporadically between poems broadcasting profound rage regarding paths endured. You can feel the author's confidence build as she evaluates her worth against the negative feedback and denial she has experienced throughout her tumultuous, synthetic, and isolated existence; An existence she is painstakingly laboring to reconstruct, piece by piece, through intense contemplation. The juxtaposed nature of the work takes the reader on a roller coaster ride of emotional highs and lows, culminating in a final AMEN. Illustrator, Eric Savage, delivers once again with heartwarming illustrations that poignantly captivate the essence of the words on the page.