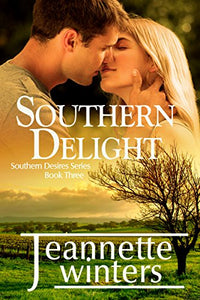 Southern Delight Southern Desires Series Book Three Paperback Autographed by Jeannette Winters 2016
$1995

$19.95

Save $10
Tax included.
Shipping
calculated at checkout.
---
---
Don Farrell believes in working hard and playing even harder. The only thing he took seriously was business. Finding out there was a target on his back only made him more determined to succeed.
Bailey Tasca had been confident and outgoing. Her tomorrows had been filled with dreams of someday making it big as a comedian, but her laughter stopped the day the doctor told her the results: cancer. Now she struggles to redefine herself.
When Don and Bailey meet up again at a friend's wedding, the one thing neither wanted was to find the chemistry they'd shared in the past now even more explosive.
Don realizes it doesn't matter what he achieves if Bailey is not by his side to share it. Can he reach Bailey behind her high walls of insecurities and doubt? Bailey must let go of her newly acquired inhibitions and open herself up, both emotionally and physically, if she ever wants her happily ever after. Can their love heal even the deepest wounds?