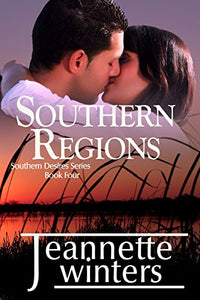 Southern Regions Southern Desires Series Book Four Autographed by Jeannette Winters 2017
$2495

$24.95

Save $5
Tax included.
Shipping
calculated at checkout.
---
---
Kevin Collins loves the lifestyle of a Marine fighter pilot, fast paced and always on the move. Never one for planting roots, he was the first in line for any mission.
Biochemist Marina Brimlow has been hiding from everyone but the one person she can't escape: herself. She's the only one who knows the truth, and the past needs to be dealt with if she ever wants a future. Doing so means risking it all.
When Kevin's grounded and told to detain Marina in the interest of national security, the terms of engagement aren't so clear. He has to find the answers they need at any cost. No matter how guilty Marina appears, Kevin finds a battle raging within him, and he'll do anything to protect her.
When Marina's life is on the line, she turns to Kevin, the only person she trusts. Once he knows the ugly truth, will the connection they share be broken because of what she'd done or will Kevin find he has even more to fight for?