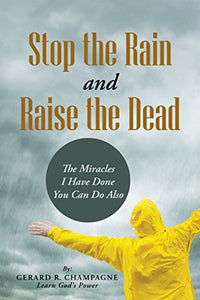 Stop the Rain and Raise the Dead by Gerard R. Champagne 2015
$1795

$17.95

Save $7
Tax included.
Shipping
calculated at checkout.
---
---
This book is full of real events and amazing things that were done in the name of Jesus. See the final conclusions to these stories of Gods truly magnificent power, at the hands of less-than-perfect men.
For those who want enjoyment and faith-building knowledge, this book is brimming with wonderful, exciting, and truly miraculous experiences of the supernatural.
May the grace of the Lord bless all who read this, because it has been written by divine inspiration of the Holy Spirit.
When life becomes too much to standkneel!
In this book, you will find miracles, suicide, demonic possessions, power to stop the rain, out-of-body experiences, raising the dead, healings, coming back from the dead, knowledge without knowing, hells darkness, visits from the dead, humor and of course true love.