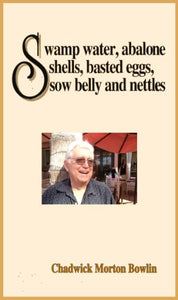 Swamp water, abalone shells, bastard eggs, sow belly and nettles, autographed, paperback, 1992
$2995

$29.95

Save $10
Tax included.
Shipping
calculated at checkout.
---
---
Several hundred years ago there were Indi-
ans and ponies in the Hill Country of South-
ern California . . . . . . in an area between
Temecula and Warner Hot Springs. They
were peaceful people with existence in a
mountainous, temperate, beautiful climate
having only to work and prepare for the
moons ahead. There were no warring fac-
tions or invaders then. It was ajoy to live .
Then the White Man crune. The' 'Butterfield
Stage" crune right through here and ended
nearby. My relatives helped settle this ter
ritory. I run very proud to be a fifth genera-
tion Californian. I sat on my Great, Great
GrandI Mother Lucia's lap and I have the
pictures to prove it. I run not all proud of
the White Man COIning. I know where the Red
Man made his arrowheads and stored his
cooking pots and ollas. In respect, I will not
tell.
This story is of the Hill Country as I saw it.
The Red Man is there today. The "Reservation
' is not a home, it is a place to stay. Few
of God's Red Children are left. The hills are
beautiful, but empty. What can I say?
I can remember and I have. It feels good to
remember. It can hurt to forget.
Don't ever say ... "Good-bye," say ..... .
• . . . . • . • . • • • • • HSO long. "