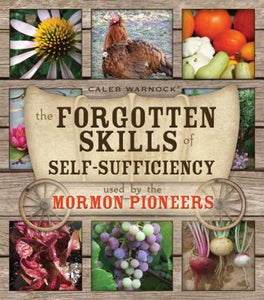 the Forgotten Skills of Self-Sufficiency New by Caleb Warnock 2011
$1595

$15.95

Save $14
Tax included.
Shipping
calculated at checkout.
---
---
Many people dream of becoming self-reliant during these times of fluctuating prices and uncertain job security. Using truly simple techniques, you can cultivate the pioneer's independence and strengthen your family's self-reliance as you discover the joy of homegrown food, thrift, and self-sufficient living.
Grow your own food and apply other pioneer knowledge to combat the effects of lost wages, harsh weather, economic recession, and commercial contamination and shortages.
More titles by Caleb Warnock:
"More Forgotten Skills of Self Sufficiency"
"Forgotten Skills of Backyard Herbal Healing and Family Health"
"Backyard Winter Gardening"
"The 100 Percent Natural Food Cookbook"
"Stress-Free Vegetable Gardening"
"The Art of Baking with Natural Yeast"
"Seed Saving"
"Trouble's on the Menu"