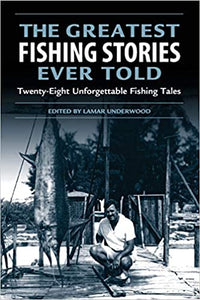 The Greatest Fishing Stories Ever Told Hardcover w/jacket by Lamar Underwood 2000
$1995

$19.95

Save $10
Tax included.
Shipping
calculated at checkout.
---
---
New Condition with perfect jacket. Smoke free store. 
"Every once in a while, a book publisher comes up with a great concept for a series of books that deserve more than superficial recognition. Such a series is The Greatest (fill in the blank) Stories Ever Told, anthologies that should win places on many bedside tables. On the long winter nights that lie ahead, such stories make great reading." -The Lexington County Chronicle
The Greatest Fishing Stories Ever Told is sure to ignite recollections of your own angling experiences as well as send your imagination adrift. In this compilation of tales you will read about two kinds of places, the ones you have been to before and love to remember, and the places you have only dreamed of going, and would love to visit. Whether you prefer to fish rivers, estuaries, or beaches, this book will take you to all kinds of water, where you'll experience catching every kind of fish.
Read on as some of the sport's most talented writers recount their personal memories of catching bass, trout, bluefish marlin, tuna, and more. You'll read about all kinds of fish, and all kinds of fishermen in these pages. Explore the Pacific with Zane Grey, as he fights a 1,000-pound blue marlin, or listen as
A. J. McClane explains just what it really means to be an angler. Take a step back in time when you read Ernie Schwiebert's tale of fishing a remote lake in Michigan, when he was still only a young boy. Each of these stories, selected because of its intrinsic literary worth, reinforces the unique personal connection that fishing creates between man and nature.