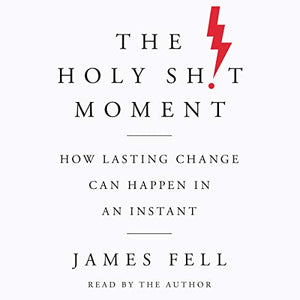 The Holy Shit Moment Hard Cover by James Fell 2019
$2495

$24.95

Save $5
Tax included.
Shipping
calculated at checkout.
---
---
James Fell, motivation expert and social media dynamo, teaches listeners how to skip the hard part and go directly from intention to committed action.  
After years of helping people change, James Fell had a sudden insight about sudden insight: significant life change doesn't often come from just putting one foot in front of the other, carefully observing and altering habits, slogging through baby steps toward new behavior. Rather, the research reveals that serious life turnaround usually happens in a moment, with a flash of inspiration. Epiphany arrives like a lightning strike, rapidly shifting the recipient of such enlightenment onto a new path that creates a better life.   
Motivational psychology has traditionally focused on slow and steady - gradual improvement over time to reach a desired goal, whether it's weight loss, career change, battling addiction, or success in relationships. We've been told since toddlerhood that the tortoise beats the hare. But, through compelling science and powerful stories, James Fell shows us that the hare has the edge; overwhelming desire can be awakened fast and furiously. When you learn to become attuned to that sensation of sudden awakening, a new path can be followed almost effortlessly, because it feels like destiny.  
Everyone has the ability to experience the lightning strike. The Holy Sh!t Moment will teach you how to create a life-changing epiphany and go directly from intention to action.