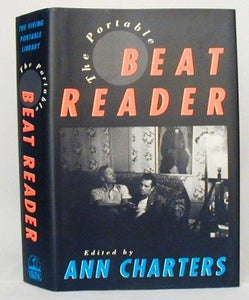 The Portable Beat Reader hardcover w/jacket by Ann Charters 1992
$8000

$80.00

Save $20
Tax included.
Shipping
calculated at checkout.
---
---
First Edition  1992  Penquin Books
Cutting through bohemian posturing and excess, Charters here reprints much of the most vital, readable and relevant material produced by the Beat generation, primarily in the 1950s and '60s, with some selections from the '70s and '80s. The novels of such leading figures as Jack Kerouac and William S. Burroughs lend themselves well to excerpting, giving this volume creditable ballast. Representative works of Allen Ginsberg, Lawrence Ferlinghetti and Gary Snyder are included along with those of lesser-known Beats (e.g., John Clellon Holmes), fellow travelers like Frank O'Hara and Amiri Baraka, and wives and girlfriends often overlooked at the time, including Hettie Jones, Carolyn Cassady and Joyce Johnson. Charters ( Kerouac ) offers a broad perspective on this seminal literary movement: she links East Coast Beats to the San Francisco Renaissance poets; pays attention to such latter-day Beats as Ed Sanders and Tuli Kupferberg; and explains the position of non-Beat but related writers--Alan Watts, Anne Waldman, Diane DiPrima and the young Norman Mailer--in her helpful introductory essay and notes preceeding each entry. Her energizing, liberating anthology makes it clear that such Beat preoccupations as the bomb, the meaninglessness of modern existence and ecological destruction remain current.
Copyright 1991 Reed Business Information, Inc.