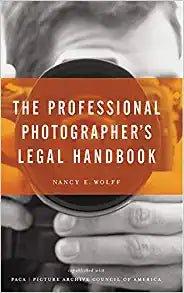 The Professional Photographer's Legal Handbook 2007 Paperback Nancy E.Wolff
$795

$7.95

Save $17
Tax included.
Shipping
calculated at checkout.
---
---
In this accessible and entertaining book, expert Nancy E. Wolff explains copyright, trademark, contracts, and privacy. Real-world examples of cases, laws, and news items torn from today's headlines illustrate the most urgent legal situations faced by photographers: requirements, limits, and enforcement of copyright and trademark; fair use and public domain; first amendment considerations; the law of privacy and publicity; and many more issues. Detailed information on drafting contracts and licensing agreements is included. The imprimatur of the Picture Archive Council of America assures readers that the information is comprehensive and up to the minute. 
The Professional Photographer's Legal Handbook
 is an essential tool for everyone who works in photography—and everyone who wants to.