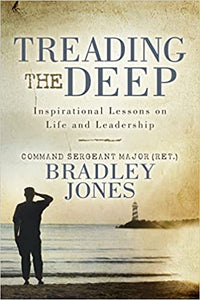 Treading the Deep Inspirational Lessons on Life and Leadership softcover autographed by Bradley Jones 2022
$2495

$24.95

Save $5
Tax included.
Shipping
calculated at checkout.
---
---
You can listen to our author interview on our podcast at anchor.fm/wayne-barber
A story finally told from an enlisted soldier's unique perspective.
Command Sergeant Major (CSM) Bradley P. Jones in his wildest dreams, never thought he would make a career out of the military. Like many, he joined for the college tuition assistance. He was determined to serve out his first and only enlistment, and then move on to bigger and better. He managed to leave the military – called a break in service – for four years, but the military never left his thoughts or his system. There was something about serving his country that constantly called to him through his missionary service in south America and then into his university studies. A calling Bradley finally succumbed to, reenlisting back into an AH-64 Apache helicopter battalion near the university. From there, his service led to a career he loved working on Apaches as a full-time federal employee, while starting a family with his wife as a newlywed. While serving in Kuwait on September 11, 2001, his life and career, along with everyone in uniform, changed along with the rest of the country. From there, his career trajectory seemed to him to be predetermined, finally culminating in his appointment to serve his beloved fellow soldiers as the top enlisted member in the battalion. In Treading the Deep, Bradley's humor and faith promoting experiences, restores readers beliefs in the tenacity of the human spirit and its ability to ultimately overcome, no matter the trials or circumstances.