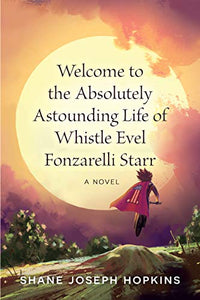 Welcome to the Absolutely Astounding Life of Whistle Evel Fonzarelli Starr novel by Shane Joseph Hopkins 2020
$2000

$20.00

Save $4.95
Tax included.
Shipping
calculated at checkout.
---
---
A "Great American Novel" that will Grip Your Imagination and Refuse to Let Go...
When Whistle's young life takes a dramatic turn in one of the worst ways imaginable, the boy decides it's time to move on and see what lies ahead. Besides, the pull he feels is far too strong to resist.
Starting out with little to no life experience, Whistle has absolutely no idea where he might end up, or the path his journey will lead him down. But one thing he is quite certain about is that it's going to be one hell of a ride.
This book is filled with extraordinary characters and amazing situations that ramp up the story from the very beginning to the very end.
And through it all, there will be great successes and epic failures. But you'll see that the long trail traveled will definitely be more than worth it in the end.