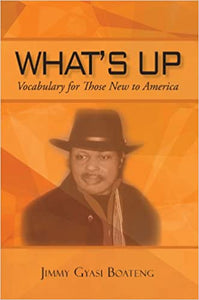 What's Up Vocabulary for Those New to America Paperback by Jimmy Gyasi Boateng 2010
$1095

$10.95

Save $4
Tax included.
Shipping
calculated at checkout.
---
---
My idea for this book and its intended audience is the awareness and use of expressions by typical
Americans. In my country, we call these expressions slangs. Although some people might have attended
higher institutions in their native countries, when they came to America they were baffl ed
or confused by these slangs. Most of my friends who went to college before coming to America
also have problems because they dont let go of their accent and their English. Even though I came
from a country whose offi cial language is English, (were colonized by the British), I had a very hard
time understanding the Americans use of slang. Statements like, Are you nuts? meant a whole different
thing to me until after I had been here a while, then I began to decipher the subtle meanings
of these slang expressions and American dialect.
I began to compile foreign expressions and put them in book form so that people who are new to
this country might appreciate and understand what these expressions mean. It is my hope that both
Americans and new immigrants will be helped by this small book by learning these expressions and
using them when appropriate and knowing when not to use expressions that may rub people in
America the wrong way.