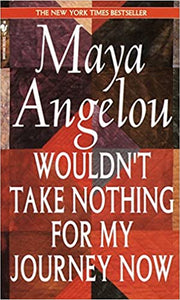 Wouldn't Take Nothing for my Journey hardcover Maya Angelou 1993
$695

$6.95

Save $10.05
Tax included.
Shipping
calculated at checkout.
---
---
Maya Angelou, one of the best-loved authors of our time shares the wisdom of a remarkable life in this bestselling spiritual classic.


This is Maya Angelou talking from the heart, down to earth and real, but also inspiring. This is a book to be treasured, a book about being in all ways a woman, about living well, about the power of the word, and about the power of spirituality to move and shape your life. Passionate, lively, and lyrical, Maya Angelou's latest unforgettable work offers a gem of truth on every page.

Maya Angelou speaks out . . .  


On Faith:
 "I'm taken aback when people walk up to me and tell me they are Christians. My first response is the question 'Already?' It seems to me a lifelong endeavor to try to live the life of a Christian. It is in the search itself that one finds ecstasy."


On Racism:
 "It is time for parents to teach young people early on that in diversity there is beauty and there is strength. We all should know that diversity makes for a rich tapestry, and we must understand that all the threads of the tapestry are equal in value no matter their color."